AccessMatrix™ Universal Authentication Server (UAS), is a comprehensive and versatile authentication server that enable organizations to centralize all its authentication schemes in a single unified platform. It is a future-proof authentication infrastructure that supports multiple authentication mechanisms (such as passwords, OTP, biometrics) for strong authentication and authorization requirements.
UAS offers the freedom for organizations to deploy various authentication methods from different vendors under one platform, and manage it as a holistic security approach. This means organizations will not be restricted or locked to a specific hardware or software authentication solution. The use of Pluggable Authentication Module (PAM) approach also allows organizations to have ease of adding new methods when available on top of their existing scheme.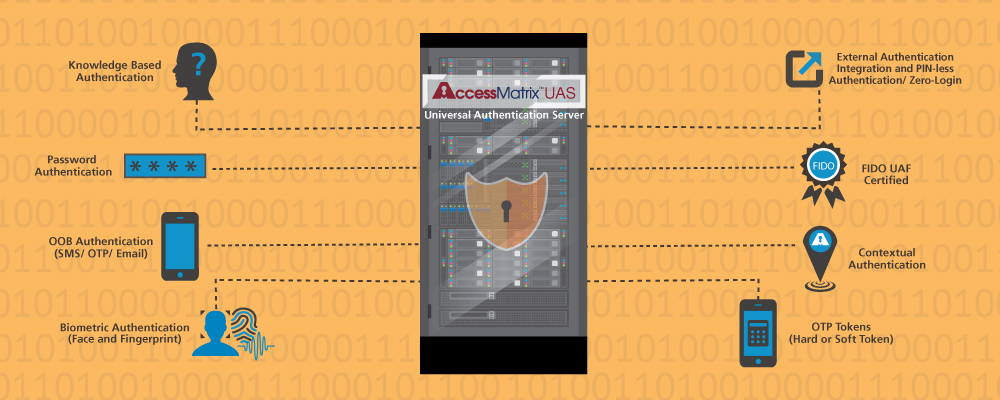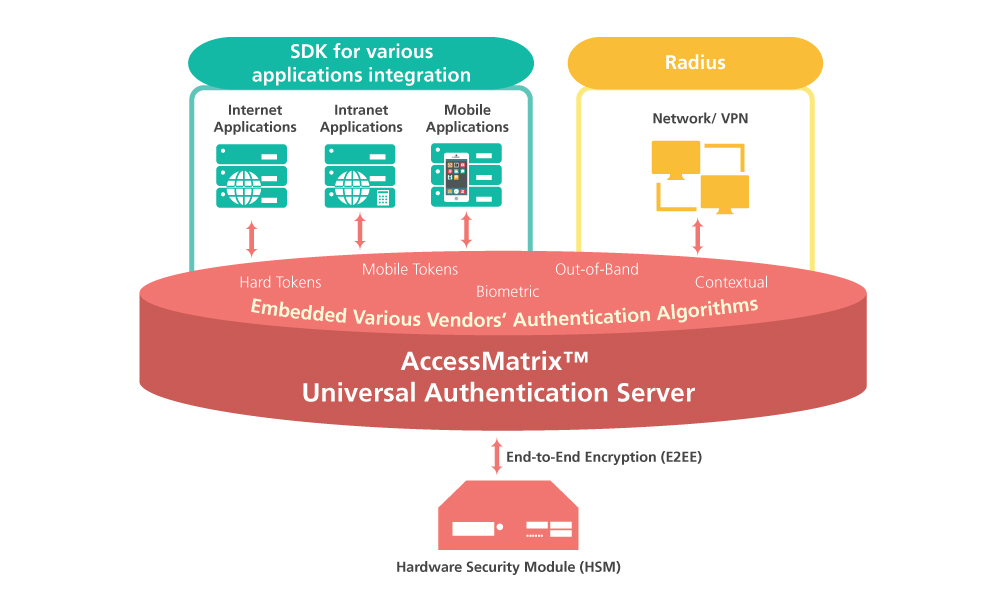 Based on the proven AccessMatrix™ Integrated Security Architecture, UAS provides security Administration, Authentication, Authorization, and Audit services (4As) for business applications. In addition to authentication, it provides:
End-to-End Life Cycle Management for OTP Tokens
Security services APIs for application integration and shield the complexity of token integration
Radius ready server to integrate with network devices
Administration module for administration delegation and user management
Audit and reporting module
HSM interface to leading brands of HSM devices
PIN mailer interface for mail merge and secure printing
Enforcing password policy – password history, password aging, password quality check, etc
Versatile Authentication Support
Complete Token Life Cycle Management & Administration
Embedded Vendor Agnostic Authentication Support for OTP and Biometrics
Comprehensive Support for Mobile Device based authentication
Extensible to SSO on the same platform
Reduce operational cost with a common authentication platform
No vendor lock-in
Simplify integration and deployment efforts
Handle complex authentication requirements
Cater for future authentication options
Provide a highly scalable, open and reliable platform
Ready To Deploy Solutions
Some of the AccessMatrix UAS Modules include:
Token Authentication and Management Module for Hardware and Software tokens from various vendors (GEMALTO, OneSpan (VASCO), V-Key, OATH compliant vendors)
E2E Encryption Authentication for PIN and Protection of Data in transit
Short Message Service (SMS) One Time Password
UAS Out-of-Band One Time Password
AccessMatrix™ Out-of-Band (OOB) One Time Password (OTP) Module provides a secure authentication solution by using two separate channels to authenticate a user. This solution delivers an OTP to users via GSM Short Message Service (SMS), email, IVR or any message delivery mechanism which is different from the channel that the users interact with the applications.